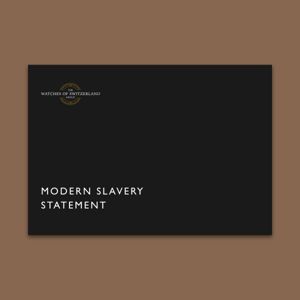 Modern Slavery Statement
We work strongly to oppose the exploitation of workings and take all steps to ensure that no form of human trafficking or exploitation of children has taken place in our supply chain.
This section outlines how we ensure we conduct our business in a responsible manner.
Supplier ethics 
As a Group we take seriously our impact on the world around us, including our supply chain. Our supplier manual contains twelve principles and all suppliers are requested to confirm their compliance with the following:
Employment is freely chosen
Freedom of association and the right to collective bargaining are respected
Working conditions are safe and hygienic
Child labour shall not be used
Living wages are paid
Working hours are not excessive
No discrimination is practiced
Regular employment is provided
No harsh or inhumane treatment is allowed
Responsible environmental practices
Zero-tolerance of conflict products
Compliance with Watches of Switzerland Group code of conduct
Responsible jewellery council membership
We have been an active member of the Responsible Jewellery Council since 2011 and were recently re-accredited in the UK and achieved accreditation in the US following an in-depth audit process.
The Responsible Jewellery Council (RJC) provides a clear set of standards (the RJC 'Code of Practices') which form a framework for companies to address sustainability best practices and align with the 17 United Nations Sustainable Development Goals. Compliance with the Code of Practices is verified through a third party, independent, certification process.
The Code of Practices is made up of 40 provisions that specifically designed for companies to fulfil six broad objectives:
Legal and regulatory compliance
Responsible supply chains, human rights and due diligence
Labour rights and working conditions
Health, safety and environment
Gold, silver, PGM, diamond and coloured gemstone products
Responsible mining