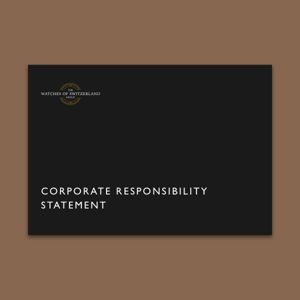 Corporate Responsibility
Electricity consumption
The Group's objective is to reduce energy consumption year-on-year relative to revenue.  In order to do this we are focusing on a number of energy initiatives, including:
In the UK we are compliant with Phase 2 of the Energy Savings Opportunity Scheme
Energy consumption is monitored on a site-by-site basis in conjunction with a specialist energy partner. Through energy consumption monitoring, automatic lighting and temperature controls we look to reduce energy consumption whilst maintaining a comfortable environment for our customers and colleagues
Since November 2015, all new UK showrooms or major refurbishments have been completed using LED lighting to reduce energy usage. 60% of our UK showrooms have been converted to date and there is an ongoing programme in place to install LED lights in all our UK showrooms over the next 2-3 years. A review of LED lighting is being performed in the US
The Group has commitments in place to purchase at least 40% of UK electricity for FY21 from renewable sources
Recycling and waste
Product packaging
In our retail showrooms we have moved from polythene branded bags to recyclable paper bags.  Our packaging supplier operates to ISO9001 and ISO 14001 standards as well as SEDEX and SMETA.
Recycling
Across our UK high street portfolio, we partner with Managed Waste Solutions and Biffa, reputable and accredited waste management and recycling providers who provide us with their total waste management solutions. This includes collections of general waste and mixed recycling from each showroom plus other one-off waste which might be generated as a result of shop fits or rebranding.
At shopping centre locations, we work closely with our landlords to ensure compliance with their policies for responsible recycling and best practice.
At our Leicester support centre, we recently changed our waste management service provider to Biffa and have improved our recycling rates significantly. Our target is to send no waste to landfill. We have taken on suggestions from our colleagues to improve waste and recycling, including the removal of single-use plastic cups in our support centre.
We comply with the Waste Electronic and Electrical Equipment Directive which forms part of our company policy and procedures.
Water
Over the past four years we have installed water meters in all possible sites across our showrooms and offices.  Water meter data is used to identify sites with exceptional water use and to resolve problems. We plan to gather the baseline data for water consumption in order to benchmark our showrooms and develop and plan with targets to reduce our water usage.