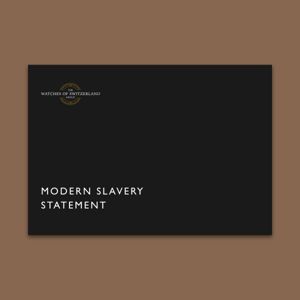 Modern Slavery Statement
We work strongly to oppose the exploitation of workings and take all steps to ensure that no form of human trafficking or exploitation of children has taken place in our supply chain.
Supplier engagement is key to helping us achieve our climate ambitions and address areas of public concern, such as supporting biodiversity and ensuring robust traceability mechanisms.
We continually strive to build a more sustainable business by integrating human rights and environmental considerations into every commercial decision we make, with the aim of safeguarding against risk and growing our product range from more ethically aware and responsible supply chains.
In a world that needs us all to buy less – but buy well – we are proud the watches and jewellery we sell are produced using techniques that optimise precious materials and are designed to be enjoyed for generations.
Innovation is widely encouraged across our business model and product range to help optimise performance and minimise any negative impacts resulting from our operation. 
human rights and modern slavery 
We take great pride in operating with integrity and transparency and would never knowingly engage with a supplier that is in any way involved in human trafficking, servitude, forced labour or any other aspect of modern slavery. The Group supports the principles set out in the UN Universal Declaration of Human Rights and has measures in place to identify, assess and mitigate potential labour and human rights abuses across our value chain.