The Breguet brand is adored around the world for its unique and luxurious watch designs.
The innovative yet traditional company has been setting standards within the watchmaking industry since 1775
Having developed many patented features that are treasured by many watch collectors across the globe, Breguet are pioneers in beautiful mechanical wristwatches and are true masters of their craft. Breguet watches present the time on beautifully decorated engine-turned dials adorned with gold elements and surrounded by beautifully polished water-resistant cases, ensuring the perfect working environment for an in-house movement. At Breguet's Manufacture in the Vallée de Joux (Switzerland), every timepiece is developed and finished by hand to the very highest standard.

We have enjoyed a long-standing partnership with Breguet, and in 2020, to coincide with the update of our flagship Knightsbridge Watches of Switzerland store, we introduced a calendar of horological highlights including an exhibition of 23 special edition Tourbillon watches from Breguet and several other luxury watch brands. Breguet originally created the Tourbillon (French for 'whirlwind') movement in 1801, to thwart the negative effect of gravity in pocket watch mechanisms. Today it is widely appreciated as one of the most beautiful and enchanting expressions of Swiss watchmaking know-how.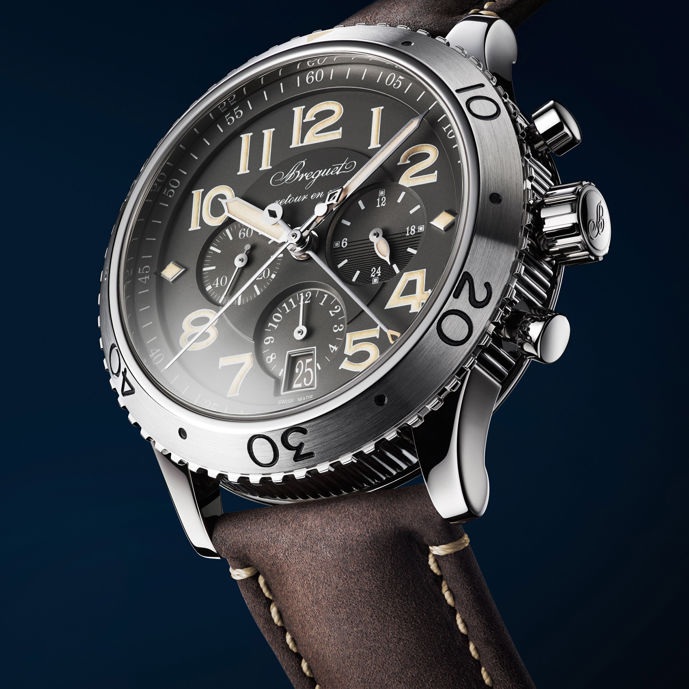 The Breguet Collections
Lovers of technical refinement and complications will be elated at the exuberant selection of Breguet watches within the collections. They are sure to be spoilt for choice between lustrous polished gold cases and finely tuned engines – each one different from the next.

Abraham-Louis Breguet based his work on the observation that gravity is the enemy of the regularity of horological movements, in that it provokes variations in timing adjustment with each change of position of a watch when worn. To solve this problem of gravity that is inherent to all human activity, he created a new type of regulator which is called the Tourbillon. The House of Breguet has made it a point of honour to pay tribute to this invention with timepieces each more elegant than the next.

There are many watch collections to choose from within Breguet's ever-evolving universe. The brand's Classique collection exemplifies the Swiss watchmaking ideals of precision, clarity and elegant lines. Whether extra-thin models or complicated watches, they are all true to the technical principles, the artistry and the traditional values of the Breguet watch. Clear and spacious dials are adorned with crisp black Roman numerals or Arabic markers, while small second sub-counters and date apertures add a touch of technical finesse to each model.