Discipline, ambition, and the incredible foresight of a watchmaker lie at the heart of Zenith.
First established in 1865
First established in 1865 by a then 22-year-old Georges Favre-Jacot in Le Locle, in the canton of Neuchâtel, the brand quickly became known as the first watch manufacturer in the modern sense of the term – using precision machinery to manufacture nearly interchangeable watch parts in big series. In 1969, it was part of the race to produce the first automatic chronograph, the El Primero, which is widely regarded as one of the finest chronograph movements ever produced. It's also the movement that saved Zenith as a manufacture due to the vision of Charles Vermot, the watchmaker who hid the designs and tooling for the movement in the attic of the factory during the 'quartz crisis' in the belief that this would be needed in the future. Given its spirit of adventure, it's not surprising that its watches have accompanied extraordinary figures as they achieve the seemingly impossible – from Louis Blériot's history-making flight across the English Channel in 1909 to Felix Baumgartner's record-setting stratospheric free-fall jump in 2012. Zenith has been there at each point, assuring precise and reliable timekeeping.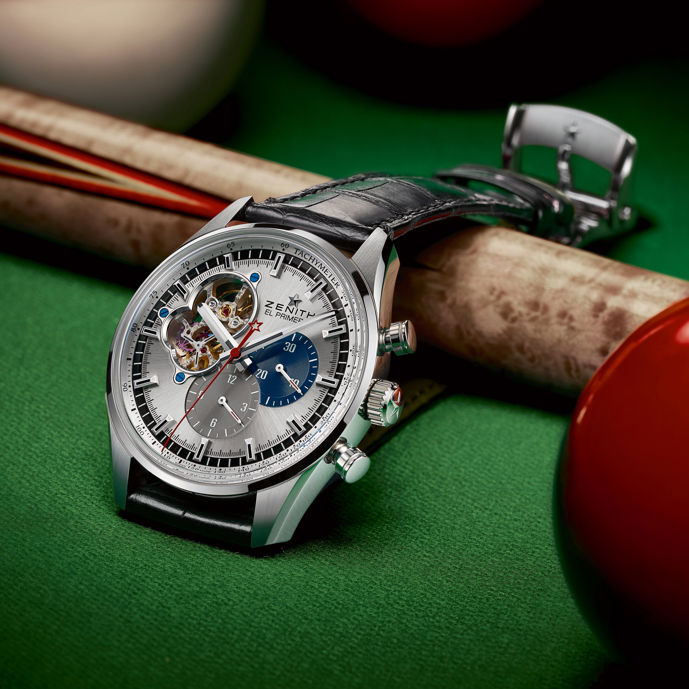 Iconic Timepieces
Some of its most iconic timepieces include those from its Defy collection – the flagship sports line; its retro-styled Pilots collection, and also its Chronomaster Sport. Every model is inspired by a passion for accuracy and desire to create sartorially led everyday wearers. Zenith also partners with a selection of ambassadors, including actors, gymnasts, and architects, that it feels embody the spirit of Zenith. We have worked with Zenith for a number of years and have consistently seen the brand release spectacular collections. Zenith models always do well across our marketing channels, and we communicate news about the brand and its new releases throughout our performance marketing, social media, newsletters, and Calibre editorial platforms. We were pleased to have Zenith's CEO Julien Tornare as a guest on our Calibre podcast talking us through the pieces that Zenith was launching for 2021 and what activity would be surrounding them. At the watch fair Watches and Wonders we included Zenith in our series of YouTube videos.