The two-storey design is based on the distinctive industrial-loft aesthetic that is already a defining part of
Breitling's top global retail locations and offers its customers a casual, stylish, modern-retro-ambience. It
has an imposing 26 ft. high glass frontage, and spans an impressive area of 238m², in which to showcase
the brand's three "universes", Air, Sea, and Land (the environments for which Breitling's watch families
were developed).
These worlds are also reflected in the décor, which includes an impressive air runway ceiling housing
a scaled-replica of a vintage plane, retro surfboards, as well as a Triumph Thruxton RS Motorcycle on
display.
The informal lounge areas invite visitors to explore the timepieces in comfort and at their own pace. The
contemporary urban home concept says everything about the brand's casual, inclusive, relaxed and
sustainable approach to luxury. The Breitling bar, located on the second floor, allows clients to try on the
brand's timepieces over one of their signature cocktails - a key aspect of Breitling's legendary hospitality,
which goes beyond watchmaking.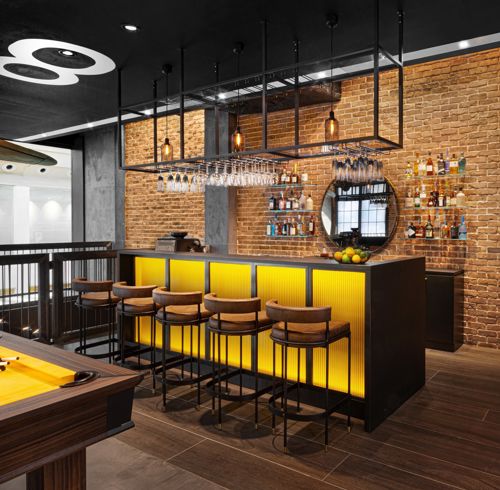 Breitling UK Managing Director Gavin Murphy says: 
"This is the largest project outside of London and the sheer scale of the boutique enables us to deliver an incredible and immersive journey into the worlds of the Breitling brand. The Midlands are an important geographical location for us and will only get stronger with this impressive boutique."
The boutique will be managed by the Watches of Switzerland Group. Craig Bolton, President, UK and Europe at the Watches of Switzerland Group says:
"I am very proud of this showroom, the sixth Breitling mono brand boutique in the Watches of Switzerland Group portfolio. It offers a truly luxurious retail environment, allowing us to offer a fully immersive Breitling experience."