Fraser Brown, Glasgow Warriors co-captain and international Rugby Player, officially opened Goldsmiths new luxury concept showroom today (Friday 19 November 2021) at Braehead Shopping Centre in Renfrew, Glasgow.
Goldsmiths, one of the UK's leading luxury watch and jewellery retailers and part of the Watches of Switzerland Group, has invested significantly this year in redesigning seven of its Goldsmiths showrooms. The Braehead showroom is a first for Scotland and follows the recent openings in Brighton, Canterbury, and Reading
With a luxurious and modern retail environment that embraces more of a lifestyle-led, relaxed shopping experience Goldsmiths' Braehead showroom features a whole new interior design concept and an exceptional showcase of luxury timepieces from the best names in Swiss watchmaking alongside world-renowned fine jewellery brands.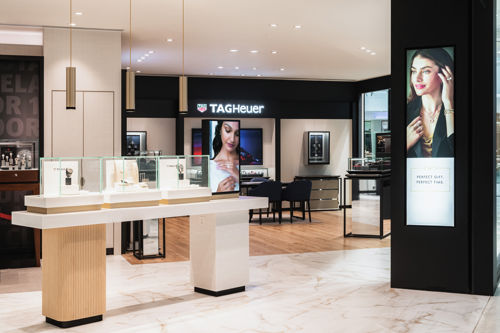 The updated retail concept combines:
An Increased focus on luxury watch brands and a 'relaxed, inclusive, and experiential' in-store experience that make Goldsmiths the leading destination for luxury watch and fine jewellery lovers.
Dedicated areas for TAG Heuer, Tudor and Longines,
Luxury Swiss watch brands Rado, Tissot and Gucci.
Complementary fine jewellery offering, including the introduction of Fope, and Gucci.
Fine jewellery highlights include exclusive collection, Goldsmiths' Brightest Diamond as well as a curated collection of higher-carat diamond jewellery and a new limited-edition suite of white gold and diamond pieces
Front-facing curated capsules are a striking new design feature with the Braehead showroom showcasing the TAG Heuer Carrera Calibre Heuer 45mm, a knock-out TAG Heuer Calibre Heuer 02 Chronograph timepiece that's race car-inspired with a mesmerising iridescent skeletonised dark blue dial as well as an exclusive sapphire and diamond jewellery collection.
In essence, these stores will deliver an increased focus on Goldsmiths' luxury watch brands and a more experiential in-store experience for customers to position the brand as the destination for luxury timepieces and fine jewellery.
The new calming, yet dynamic space was conceived in partnership with the award-winning UK-based design collective Quadrant Design. Light to create uncluttered, open spaces in a monochrome palette of luxurious materials such as white-washed oak timber, white terrazzo and blackened steel. These have been combined with visual architectural forms that include repeating vertical lines and soft curves inspired by the Goldsmiths logo. It marries contemporary luxury design with a relaxed atmosphere.
Commenting on the new concept, Craig Bolton, executive director of the Watches of Switzerland Group, said:
"This is a significant milestone for Goldsmiths in Scotland. Luxury is less formal than it once was, today it's synonymous with a more relaxed, inclusive, and experiential experience. It's why we have focused on elevating our Goldsmiths brand to deliver a more fitting, luxurious, and memorable shopping environment where our customers feel valued, it's the future of the high street. We're delighted to launch in Scotland at Braehead and that Fraser Brown a top-flight rugby professional, from our partners, Glasgow Warriors, was here to help re-open our Braehead showroom today."
Peter Beagley, Braehead's centre director said:
"The opening of Goldsmiths new luxury concept store in Braehead is yet another jewel in our crown. Visitors to the centre will have a superb choice of even more premium brands when it comes to watches and jewellery when they visit Goldsmiths at Braehead. We're delighted that Braehead has been chosen to be the first of Goldsmiths' new redesigned stores in Scotland and it demonstrates that we are a retail destination of choice for some of the country's top brands."