Cabot Circus offers the ultimate in watch and jewellery retail. It's the largest of its kind in the South-West and is a favourite for locals and visitors with over 150 stores under one roof. The new Goldsmiths showroom is more than double the former retail location, with an elegant wrap around glass frontage and fresh luxury interior concept, which includes:
• 85 sqm Rolex Shop-in-Shop, with two closed private VIP areas, a large sales area with two sales desks and a counter
• Branded areas for prestige luxury brands OMEGA, TUDOR, Zenith and Longines
• A runway of the finest watch brands featuring Oris, Rado, Bremont, Gucci, Doxa and Tissot watches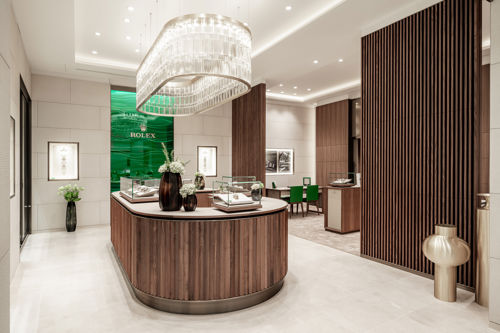 Watch enthusiasts can enjoy these exclusive areas or retreat to the warm and welcoming new hospitality bar and lounge space, which offers the ideal meeting place for true connoisseurs.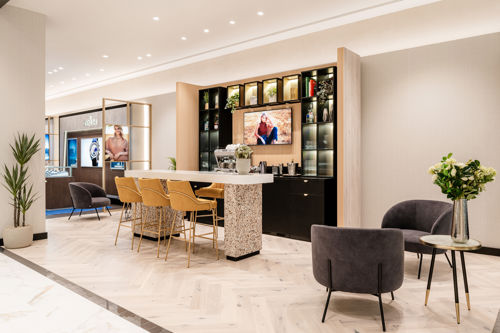 The new showroom is also home to exquisite jewellery from Goldsmiths own diamond collections. A large back wall dedicated to branded jewellery from FOPE, Jenny Packman and Messika with dedicated client service areas.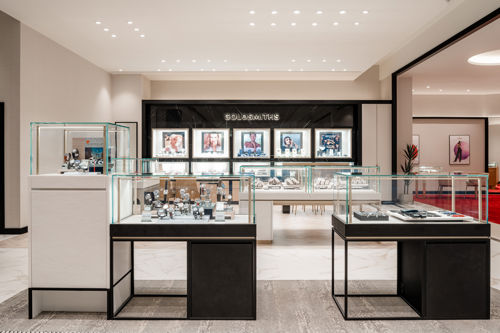 The light, open plan showroom features a monochrome palette of luxurious materials such as white-washed oak timber, white terrazzo and blackened steel have been combined with visual architectural forms that include repeating vertical lines and soft curves inspired by the Goldsmiths logo.
"We are excited to bring this new, significantly larger Goldsmiths showroom to our local clientele in Bristol. The elevated luxury showroom will deliver a more contemporary environment, to relax and explore the latest collections. A large, Rolex Shop-in-Shop on the left-hand side of the showroom, with its own welcome area, oval watch bar and large chandelier, is a fantastic space for clients to immerse themselves in the brand. We have also introduced new branded watch areas for Omega, TUDOR, Zenith and Longines ensures clients have the best product offering. It has always been paramount to deliver great brands, in the best environments and in the best locations. This year, Cabot Circus, Bristol will see a significant local investment and this Goldsmiths showroom is the start of our elevated presence in the shopping centre."