The Goldsmiths Derby showroom is in the Derbion shopping centre, the largest shopping centre in the East Midlands. Centrally located in the heart of the bustling city, Derbion is a vibrant hub of retail, leisure and dining facilities.
The new Goldsmiths showroom with an elegant wrap around glass frontage and fresh luxury interior open plan layout features:
Expansion into adjacent unit to create larger sales & larger back of house
Branded areas for TAG Heuer, Longines and Tissot
Dedicated Services & Repairs Seating Area
New Watch brand introductions for Oris, Hamilton and Seiko Prospex
New luxury jewellery brand FOPE
Pre-owned watches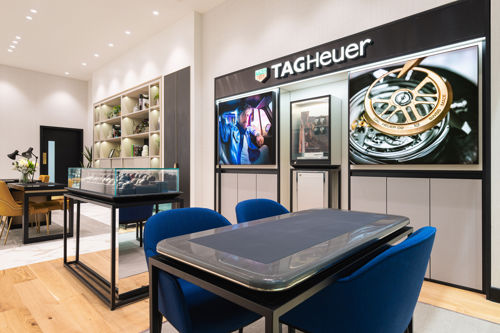 Watch enthusiasts can enjoy these exclusive brand areas with TAG Heuer, Longines and Tissot which offers the ideal meeting place for true watch connoisseurs.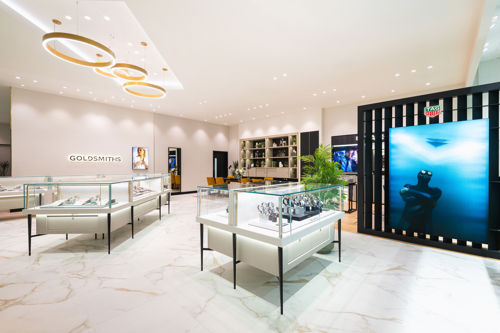 The new showroom is also home to exquisite jewellery from Goldsmiths own diamond collections with each piece designed to suit many styles and tastes, so you are sure to find the piece perfect for you. Plus the introduction of FOPE jewellery to the showroom, adds an Italian brand with an unmistakable charm and sophistication.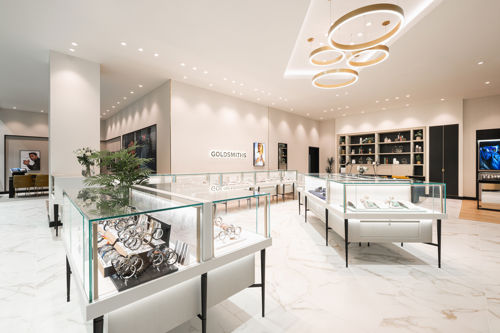 The light, open plan showroom features a monochrome palette of luxurious materials such as white-washed oak timber; white terrazzo and blackened steel have been combined with visual architectural forms that include repeating vertical lines and soft curves inspired by the Goldsmiths logo.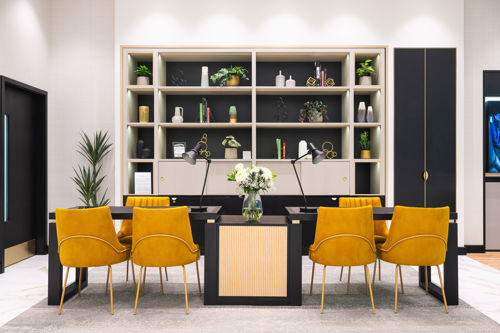 "The Goldsmiths Derby showroom is an exciting development for the business and for our local clientele. The expansion of the showroom features branded areas from some of our leading brand partners; TAG Heuer, Longines and Tissot to enable our clients and prospective clients to have the best product offering on the high street. The passion and dedication of our showroom experts are on hand to also ensure the best client experience and we look forward welcoming locals to this fantastic showroom."