The Reading showroom is only the second of Goldsmith's, new concept showrooms to open, following on from Canterbury which opened at the start of October.  It reveals a whole new interior concept, as well as an exceptional new line up of luxury timepieces and fine-jewellery brands including the best names in Swiss watchmaking alongside world-renowned jewellery brands. Goldsmiths has created a luxury retail environment for the future – one that embraces a modern and relaxed way to browse.
The updated retail concept combines:
Increased focus on luxury watch brands and a 'relaxed, inclusive, and experiential' in-store experience that make Goldsmiths' the leading destination for luxury-watch and fine-jewellery lovers
Dedicated areas for Rolex, OMEGA, Breitling, Tudor and Hublot
Luxury Swiss watch brands TAG Heuer, Longines and Tissot
Complementary fine jewellery offering, featuring FOPE, Gucci, Roberto Coin and Mappin & Webb
Fine jewellery highlights include exclusive collection, Goldsmiths' Brightest Diamond as well as a curated collection of higher-carat diamond jewellery and a new limited-edition suite of white gold and diamond pieces
Customer experience centred around luxury hospitality and digital browsing tools
The beautiful new showroom houses a gorgeous collection of luxury Swiss timepieces, including exclusive timepieces from a number of world-famous brands. You'll have the chance to try on, or even buy such amazing models as the dramatic and enduring OMEGA Constellation 41mm Sedna™ gold model with its polished blue ceramic bezel and blue leather – or the smart and sophisticated Hublot Spirit of Big Bang King Gold Blue watch, with its wonderful combination of luscious rose gold and rich blue tones, and blue rubber and alligator leather strap.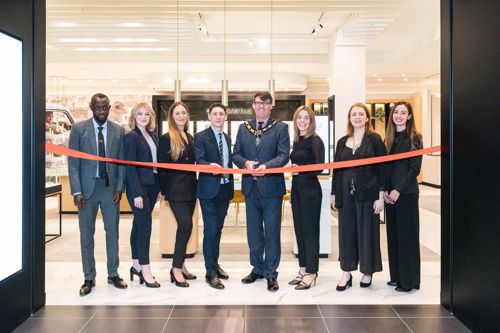 The showroom also features Goldsmiths own Exclusive Brightest Diamond featuring its very own proprietary stone cut. This Goldsmiths' stone has 88 facets – 30 more than a standard stone, which it has used in three wonderfully romantic engagement ring collections as well as eternity rings, earrings, and necklaces. Thanks to the additional facets, cut into an innovative pattern unique to Goldsmiths, brilliance, fire, and scintillation are all amped up in these stones, infusing a superior sparkle; and each piece comes with its own certificate.  
You will also find new designs from famed Italian jeweller Roberto Coin. Founded in Vicenza, known as the City of Gold and a mecca for fine jewellers, Coin's beautiful designs are defined by exquisite craftsmanship, almost architectural construction, and a sense of exuberance and joy.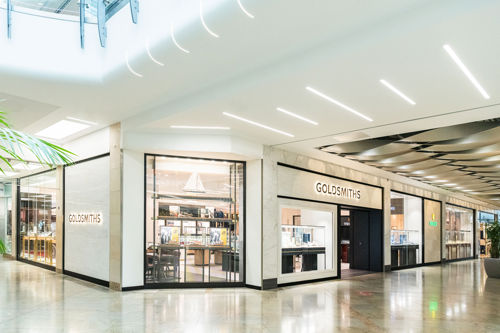 The new calm, yet dynamic, space in which these luxury watch and fine jewellery brands are showcased was conceived in partnership with the award-winning UK-based design collective Quadrant Design. Light, uncluttered spaces in a monochrome palette of luxurious materials such as white-washed oak timber, white terrazzo and blackened steel have been combined with visual architectural forms that include repeating vertical lines and soft curves inspired by the Goldsmiths logo. It marries contemporary luxury design with a relaxed atmosphere and presents guests with both in-store and digital browsing tools. Another major feature of this concept will be an open, flexible layout with VIP areas and hospitality bars where guests will be able to enjoy their experience and consider their purchases in absolute comfort.
"This is a significant milestone for Goldsmiths," says Craig Bolton, executive director of the Watches of Switzerland Group. "Luxury today has become far more relaxed, inclusive, and experiential, so while we are elevating the Goldsmiths brand position, our goal is to make everyone feel valued and at home when visiting our showrooms. Our ambition is for everyone to have a memorable luxury experience long after they've made their purchase. We believe the repositioning and new showroom concept will transform not just the Goldsmiths profile and experience but bring some fresh life to our high streets and we are delighted to launch in Reading."