Ever since it opened in 1990 on the site of a former steelworks, Meadowhall is the region's favourite shopping destination, of which the Watches of Switzerland Group is delighted to have such a strong presence with two Goldsmiths showrooms, a TAG Heuer mono-brand boutique, and earlier this year having opened a new OMEGA mono-brand boutique and a Breitling mono-brand boutique with dedicated teams on hand to provide the one-on-one expert service for clients.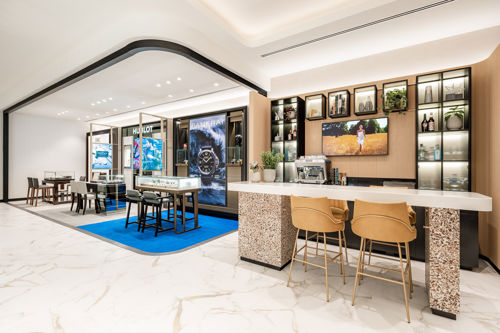 It's the larger of the two Goldsmiths showrooms situated on the Upper Mall which boasts a new, fresh interior concept with enhanced focus on luxury watch and jewellery brands through a relaxed, inclusive, and experiential in-store environment that reinforces Goldsmiths' position as the leading destination for luxury watch and jewellery enthusiasts.
The updated showroom features:
A large Rolex area with its own dedicated front entrance and opening to and from the showroom.
A new Gucci Boutique
Branded areas for the prestige brands: Cartier, Panerai, Hublot and IWC
Dedicated space for Longines, Bremont, Tissot, Chopard and Rado
The new calm, yet dynamic, space was conceived in partnership with the award-winning UK-based design collective Quadrant Design. Light, uncluttered spaces in a monochrome palette of luxurious materials such as white-washed oak timber, white terrazzo and blackened steel have been combined with visual architectural forms that include repeating vertical lines and soft curves inspired by the Goldsmiths logo. It marries contemporary luxury design with a relaxed atmosphere and presents guests with both in-store and digital browsing tools. Another major feature of this concept will be an open, flexible layout with VIP areas and hospitality bars where guests will be able to enjoy their experience and consider their purchases in absolute comfort.
Rolex welcomes clients to a contemporary interior fusing rich tones of walnut, leather, marble, and striated limestone with the internationally identifiable Rolex green tones. The room will provide a luxurious environment for clientele to view a curated range of timepieces in the Rolex collection.
The impressive new Gucci shop-in-shop boutique is the first of its kind for Goldsmiths, with its own dedicated entrance to the space in addition to the opening linked with the main Goldsmiths showroom.  The boutique will have both Gucci watches and jewellery available to clients with the finest selection from its core range plus the high jewellery pieces, including GUCCI 25H, G-Timeless, Gucci Dive and Grip, alongside fine jewellery from the Gucci Link to Love, Gucci Flora and Lion Head, as well as silver jewellery from the GG Marmont and Interlocking G Collections.
The expansion in the jewellery space brings a fresh new brand to the showroom in the form of Mikimoto, the leading producer of the finest quality cultured pearls. To compliment the offerings from other fine jewellery brands; FOPE, Messika, Roberto Coin, Kiki McDonough.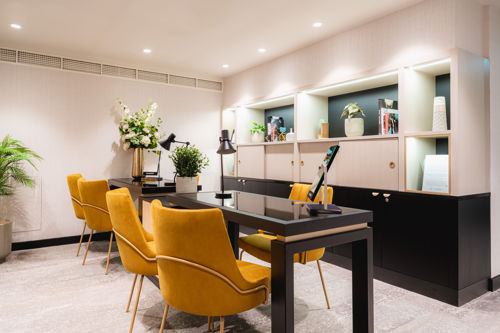 For clients looking for an additional gift, look no further than the array of pens from the highly sought-after brand Mont Blanc. Clients are encouraged to browse, relax, and enjoy this luxurious new showroom with a large hospitality area and fully fitted bar.
"This is a significant milestone for Goldsmiths, with the opening of our new luxury showroom which houses the first Gucci Watch & Jewellery shop-in-shop boutique. We are delighted to enhance our portfolio within Meadowhall for our local clientele"