The new Goldsmiths showroom, located on the Upper Ground features a fresh interior design, as well as a line-up of luxury timepieces and fine-jewellery brands creating a retail environment of the future; embracing a modern and relaxed way to browse.
The updated showroom features:
• Increased focus on a relaxed experiential in-store environment that reinforces Goldsmiths' position as the leading destination for luxury watch and jewellery enthusiasts
• The introduction of luxury watch brands Cartier, Hublot, Panerai, Zenith, Bremont, and fine jewellery from Roberto Coin
• Dedicated areas for Cartier, TAG Heuer, Panerai and Hublot
• A relaxed seating area where visitors can enjoy our hospitality and browse new collections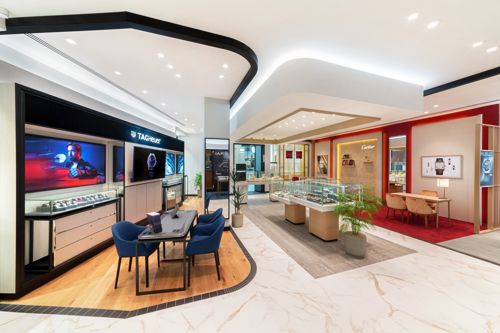 The newly introduced, large, dedicated Cartier area, with its rich gold and red tones as you enter the showroom features a wide range of timepieces. Each is dedicated to a moment in time, giving every item an individual history, such as the Cartier Tank Must, a small model watch with its steel case, beaded crown and silvered dial at £2750.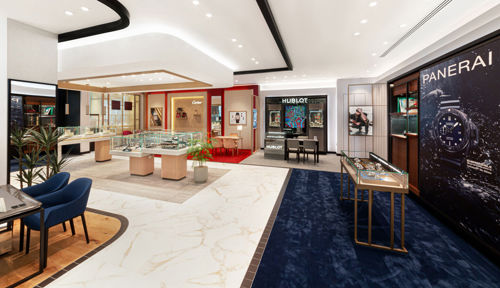 Visitors will also find new designs from Italian jeweller Roberto Coin. Founded in Vicenza, known as the City of Gold and a mecca for fine jewellers, Coin's beautiful designs are defined by exquisite craftsmanship, architectural construction with a sense of exuberance and joy.
The new calming, yet dynamic Goldsmiths Belfast space was designed in partnership with the award-winning UK-based design collective Quadrant Design. Light, uncluttered, open spaces in a monochrome palette of luxurious materials such as white-washed oak timber, white terrazzo, and blackened steel, have been combined with visual architectural forms that include repeating vertical lines and soft curves inspired by the Goldsmiths logo, to perfectly combine contemporary luxury design with a relaxed atmosphere.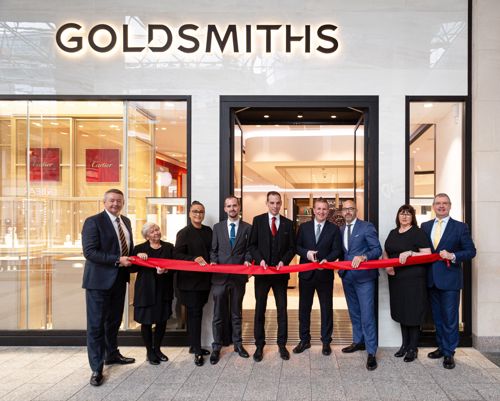 "This is a significant milestone for Goldsmiths. Luxury today has become far more relaxed, inclusive, and experiential, so while we are elevating the Goldsmiths brand position, our goal is to make everyone feel valued and at home when visiting our showrooms. Our ambition is for everyone to have a memorable luxury experience long after they've made their purchase. We believe the repositioning and new Victoria Square showroom concept will transform not just the Goldsmiths profile and experience but bring some fresh life to retail. We are particularly delighted to launch our first new luxury showroom in Northern Ireland, at Victoria Square, Belfast."