Mappin & Webb is a true British treasure with over 245 years of tradition and historical significance in the world of silver and fine jewellery. It's a story that began in 1775, when Jonathan Mappin opened a workshop in Sheffield. His mission was to create the most beautifully crafted silverware for British society. Over the immediate years that followed this would see the company expand internationally, receive Royal Warrants and commissions from Monarchs around the world, and become synonymous with excellence, craftsmanship and all things truly British.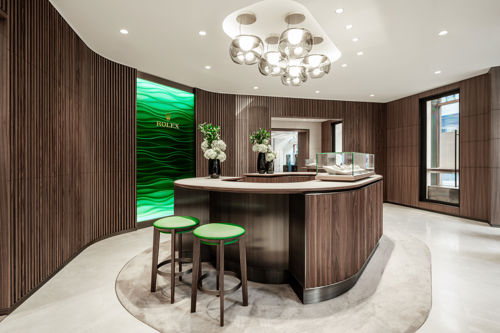 This is the first Mappin & Webb showroom to unveil the brand's new contemporary visual identity within an open plan space, designated watch and jewellery areas along with two private VIP areas.
Providing a light, bright luxury environment, the soft blush accents add a feminine touch to the signature Mappin & Webb blue that creates a warm inviting atmosphere. The beauty in the building's architecture combined with bespoke fixtures and fittings all adds to the overall elegance of the space. Creating an elevated client experience, with relaxed seating area and large bar designed to provide clients with a heightened level of hospitality.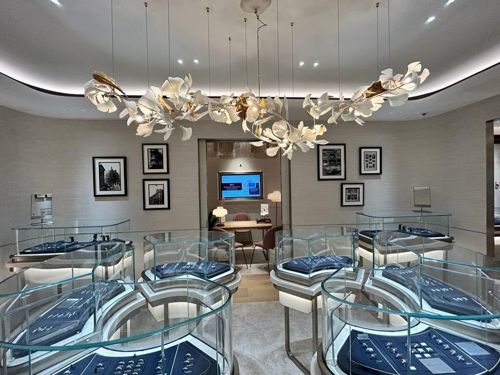 The showroom will offer clients a wide range of luxury jewellery and watches with dedicated branded areas; a large dedicated Rolex room designed to reflect the brand's commitment to quality and craftsmanship, with sleek and modern fixtures and fittings that complement the building's historical features. The new Rolex room will offer clients a wide range of the brand's iconic watches, including the Oyster Perpetual, the Datejust and the Submariner.  There are dedicated brand areas for TUDOR, Hublot and for the first time BVLGARI watches.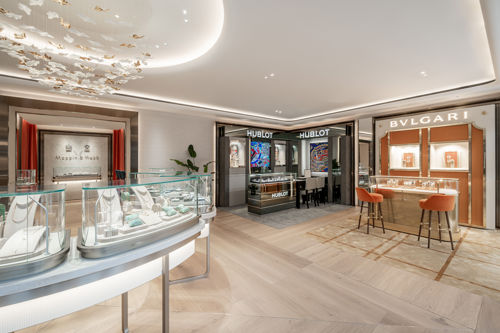 The new design also introduces a jewellery area with a separate VIP room, a dedicated bridal area with an array of diamond pieces from their own collections, high jewellery collections featuring stunning pieces that are designed to be worn on special occasions, made with intricate designs and precious stones that are sure to turn heads, and a wider offering from luxury jewellery brands FOPE, Messika and Roberto Coin to name a few.
The jewellery area is designed to create a luxurious and elegant atmosphere, which complement the brand's commitment to quality and craftsmanship. The bridal area features a wide range of engagement rings and wedding bands, with expert staff on hand to help clients find the perfect piece to symbolize their love.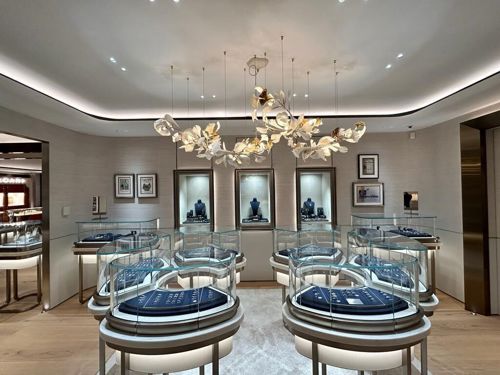 "Our brief was to create a new concept for Mappin & Webb that was both luxurious and sophisticated, to showcase the brand's iconic pieces, as well and those from the brand partners. An elegant palette, consisting of high quality natural finishes, was chosen and curved forms were introduced to create a softer, more feminine environment. The main sales area has been created to house concessions from the brand partners. A dedicated jewellery gallery provides a more intimate space, where the Mappin & Webb brand colours are used as accents. As part of the concept development, an entirely new range of millwork was created. Frameless glass tanks were developed to maximise the customer's focus on the product. Careful consideration was given to the lighting design, with discreet, indirect washes to walls and ceiling coffers, with the introduction of feature chandeliers. This is the first showroom of this new concept and we are looking forward to the expansion to other locations going forward"
Clients can also benefit from the large aftersales area where clients can receive assistance with their purchases from the knowledgeable and friendly professionals who are trained to provide expert advice and support clients with everything from basic maintenance and repairs to more complex issues such as battery replacement or strap adjustments.
"We are thrilled to be opening our new showroom in York, the town has a rich history and is known for its love of luxury and fine craftsmanship. At Mappin & Webb, we are committed to providing our clients with a luxury shopping experience that differs to any other jewellery store by embracing our brands tradition and heritage. This new showroom perfectly captures the essence of Mappin & Webb moving the brand forward with this contemporary modern design to showcase our own brand and brand partners in the best possible way"