Located in The Mall at Millenia, an award-winning shopping destination close to Florida's biggest attractions, the boutique is situated amongst the finest collection of luxury retailers.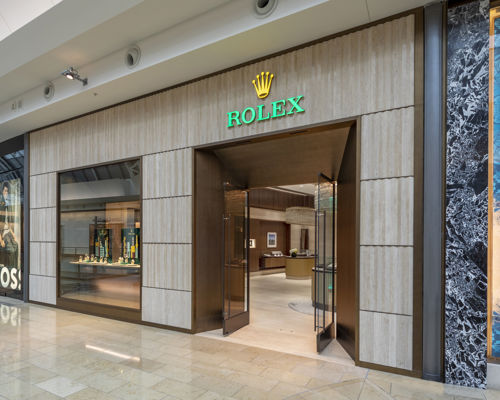 The new 2,000-square-foot boutique offers professional expertise in an elegant setting, one that promotes a sense of harmony, discretion and intimacy with the brand.
"We are proud of Watches of Switzerland's long-standing partnership with Rolex, both in the United States and the United Kingdom. We have been operating in the Orlando location since 2011 and are looking forward to enhancing the in-store experience and continuing to provide best-in-class experiences for our clients in this newly renovated and expanded space. This is just another important step in our journey together."
Every element of the interior design features the elegant Rolex aesthetic and radiates the values of the Rolex crown. Excellence, precision and attention to detail emanate from the careful calibration of colours and patterns in the fittings and furnishings.
Sensitive lighting, including chandeliers that reference the President bracelet and pendant lighting inspired by the Cyclops lens, accentuate the carefully curated selection of Rolex watches displayed in refined showcases lined with beige leather and finished with bronze trims.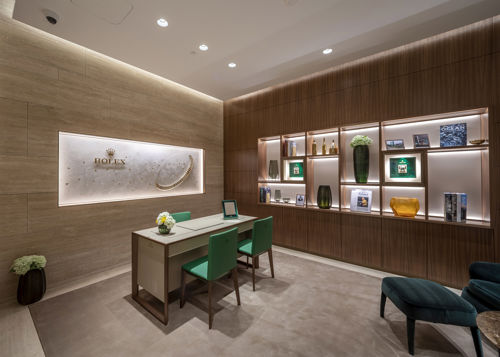 An inviting emerald aqua feature at the entrance of the boutique encourages customers to enter and explore the world of Rolex. References to the rich history and iconic design of the brand are present throughout the space, from the wave motif in the aqua feature, to the use of green within different textures, and the canelé pattern of the fluted bezel. The variety of materials used adds to the harmony of the space, from brown marble to American Walnut wood and beige-coloured Travertine stone, as well as hand-crafted stucco panels.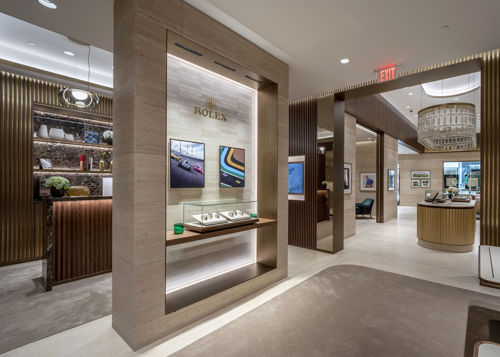 The main selling space boasts a tall ceiling cove heightened by wooden slats and features a custom stucco that recalls the gears within a Rolex movement. An additional area has custom banquette seating and a marble bar with stools providing an opportunity to observe the watchmaker at work. Two other discreet spaces provide flexibility and an intimate setting, allowing for privacy.