"Leicester has long been a strategic City for Breitling within the Midlands. This new boutique opens a new chapter for the brand within the region, and transforms our presence, product offering and customer experience."
"We are delighted to open our first mono-brand boutique in Leicester with Breitling. The new showroom is our 12th boutique with the brand and this new location ensures local clients are given the very best product offering. We look forward to welcoming new and existing clients to this relaxed and uplifting environment, which showcases the brand's signature casual, inclusive, and sustainable approach to luxury."
A NEW HOME IN THE EAST MIDLANDS
Breitling has found a natural home in the East Midlands, an area synonymous with engineering – particularly in motoring and aviation – which reflects the brand's own legacy of exploration and innovation. Breitling's new boutique at Leicester's Highcross shopping centre creates a new hub for watch aficionados across the region and is instantly recognisable thanks to the brand's long-established industrial loft-inspired interiors. Behind the double-height frontage, clients can expect to find the brand's signature dark oak floors, exposed steel and concrete accents contrasted with walnut furniture, leather seating, and suspended pendant bulbs. Elsewhere, a wall-mounted aeroplane propellor nods to Breitling's history as a pioneer of aviation timepieces.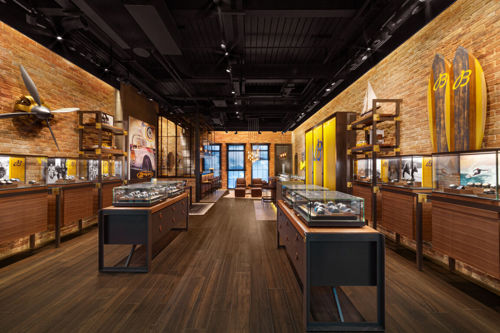 More than 200 Breitling watches are all waiting to be discovered inside the store's 17 glass vitrines, including new editions like the Navitimer Boeing 747, Avenger Chronograph GMT and Top Time Deus, as well as its longstanding Premier and Superocean collections.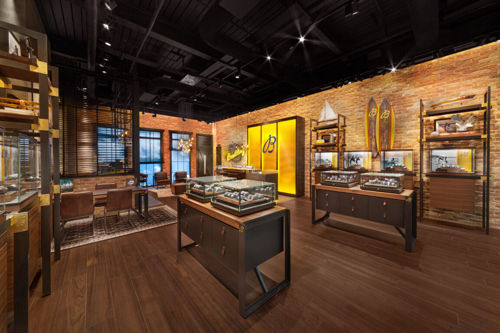 INCLUSIVE LUXURY
In addition to all of Breitling's hallmarks, there will be a bar at the back of the boutique for hosting events and building the Breitling community. The brand is famous for its warm and relaxed hospitality and envisages its in-boutique bars as an extension of this – it ties in with one of Breitling's key principles – inclusive luxury. The decor will include metal and concrete accents, leather bar stools and ottomans and a stylish pendant bulb chandelier.