The significant move sees the Group move to a three floor building, once occupied by Santander. The increased space allows room for over 500 support centre colleagues, with open plan working and a significant number of meeting rooms to encourage collaborative and cross departmental ethos.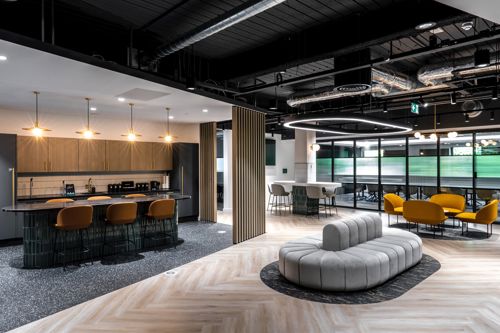 Working in partnership with award-winning Quadrant Design, the design process started by holding a series of workshops one-to-one with every department and stakeholders' team to establish what the brief for the new working environment required, with a focus on bringing people together within the building. Collaboration and creating an aspirational environment which the team would feel proud of was very important to reflect the quality of the retail showroom environments within the head office space, creating a direct link between in store and a workplace that the team could connect with the brand in every space. Due to the size of the building and the number of departments, each zone has its own unique identity so that the spaces are a reflection of the creativity within each team.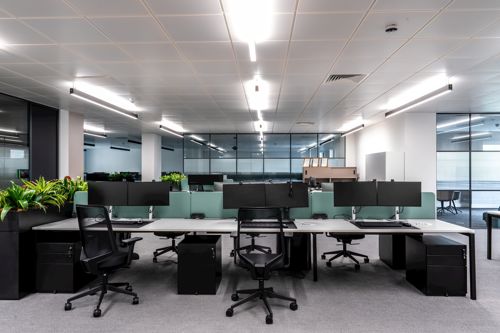 "We took inspiration from the surroundings of Carlton Park, drawing inspiration from nature and the horizon which created the base palette for the design. With the ground floor based around earthy tones such as warm ocres & yellows, we moved up the building moving into greens and blues as the building progressed to the 2nd floor linking in with the skyline. With the core palette being based on these earthy natural tones, we then overlaid some of the finishes which are showcased in the Watches of Switzerland retail environments such as white marbles, brass and black reeded timber. Planting and greenery are also a key feature throughout the building, ensuring that every department and communal space has a link to nature and enhances the overall wellbeing of the staff throughout. Key areas such as the meeting room suite and 1st floor canteen allow for large collaborative spaces, to encourage presentations, events and bringing the team together in one shared space."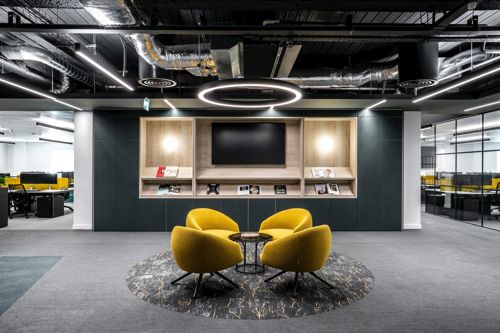 "Coming out of Covid, we had to find somewhere big and luxurious enough to ensure all of our colleagues could be seated and work together, as well as being in an environment which is reflective of who we are - a retailer of luxury products. We were very lucky to find Carlton Park, being only 15 minutes from our old office, which was a key factor of staying in Leicester to ensure everybody could commute"
The space also accommodates further growth, allowing each department to naturally evolve time without space being compromised.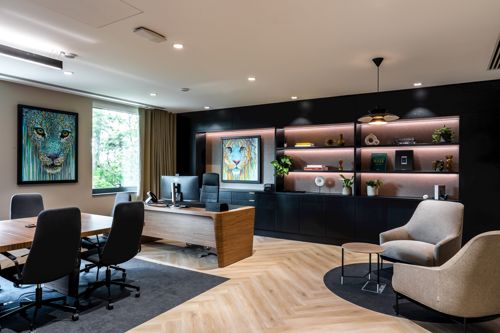 "Carlton Park is just one, albeit very important, element of our investment portfolio. We will be investing in our old location, Aurum House as well with plans to build on the site within the next 12 months. There are plans in the near future to redevelop our London offices for those colleagues who reside there and also our Support Offices in Fort Lauderdale."
In FY23, the Watches of Switzerland Group, had a Group Revenue of £1,543 million, operating in three geographical locations, UK, Europe, and North America. With over 2,800 colleagues across all locations, the Group continues to expand with an exciting pipeline of new showroom projects planned this year including the recently opened Watches of Switzerland multi-brand showroom in American Dream, New Jersey, Watches of Switzerland multi-brand showroom at One Vanderbilt, New York, AP House in Manchester, via a Joint Venture partnership with Audemars Piguet, Old Bond Street Rolex flagship boutique and expansion of the mono-brand portfolio in the UK, US and Europe. This includes the recently opened TAG Heuer mono-brand boutique in Kurfurstendamm, Berlin, Germany, and TAG Heuer mono-brand boutique in Mall of Scandinavia, Stockholm, Sweden.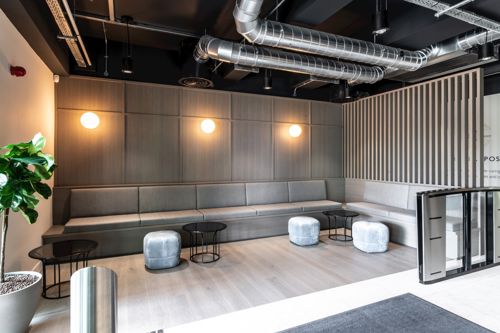 In the UK, the Goldsmiths luxury showroom continues to be rolled out and last week saw the Group launch their new contemporary luxury Mappin & Webb concept in York.