"The Cabot Circus boutique presents a fantastic opportunity to further cement our brand offering in this strategic location on the south west corridor. We have built a strong following in the region and we are delighted to partner with the Watches Of Switzerland Group on this new boutique and enhance our client base, brand experience and loyalty within this vibrant city."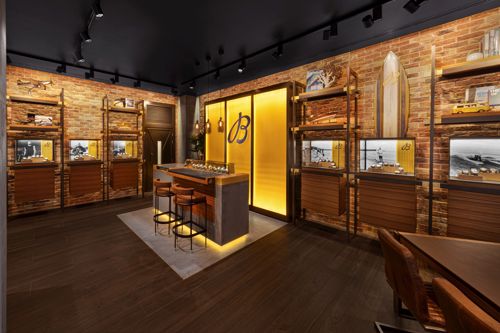 "This is a great opportunity to offer clients the best range of timepieces from this exceptional brand. Breitling represents the best of Swiss Watchmaking and is integral to the growth and development of our mono brand portfolio. Breitling has a rich history and prestige with some exciting new releases again this year. We look forward to welcoming clients into this new luxury boutique to show them through all the collections."
With its signature exposed brick and American walnut accents, Breitling's new boutique can be found beneath the shell-shaped glass ceiling of Cabot Circus, the ultimate shopping destination for designer brands, nestled in the heart of Bristol. The store's industrial-inspired interiors bring a taste of Manhattan to the historical city – from warm, buttery leather and dark oak floors to concrete walls and exposed steel. The boutique, which is Breitling's second in the city, is instantly recognisable as a destination for the high-end horology enthusiast.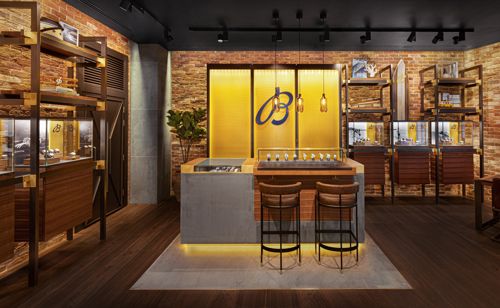 Behind the double glass doors, visitors will find Breitling's three universes: air, land and sea. Featuring an airplane propeller and a branded surfboard, the store recognises its illustrious history among aviation pioneers, surfers, adventurers, and astronauts. Meanwhile, in glass vitrines, Breitling's collection of luxury watches is waiting to be discovered. The offering includes both bestselling and new collections, such as the Superocean, Premier and Top Time.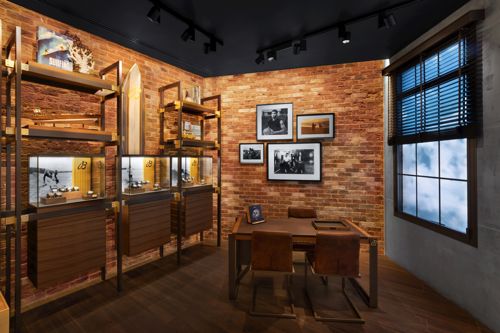 Leading the way for inclusive luxury, Breitling invites clients to step into an experience unlike any other. This new Bristol boutique will have a stylish bar for visitors to relax – a staple for the brand's stores – as well as sumptuous seating to browse the collections with all the time in the world.