The impressive contemporary space is 86 square meters, making it one of the larger mono-brand boutiques, and is located in the centre of the prestigious High Street in Guildford. The interior of the boutique reflects TAG Heuer's motoring heritage with tones of grey and dashes of TAG Heuer's iconic red.
Over 130 timepieces are available for purchase including TAG Heuer's newest launch of the Carrera Three Hands collection. The new TAG Heuer Carrera collection is comprised of - 13 pieces and four versions. All a tribute to the original Carrera watch that came to market in 1963, which was inspired by the word Carrera – Spanish for "road," "race," and "course." The latest collection keeps the authenticity of the classic while bringing in a new level of luxury and innovation.
Drawing on over 240 years as a premium watch retailer, the Watches of Switzerland Group is thrilled to welcome visitors to the latest TAG Heuer boutique, further establishing their already strong partnership with TAG Heuer. This is one of the six TAG Heuer boutiques that the brands have collaborated on to bring to market this year.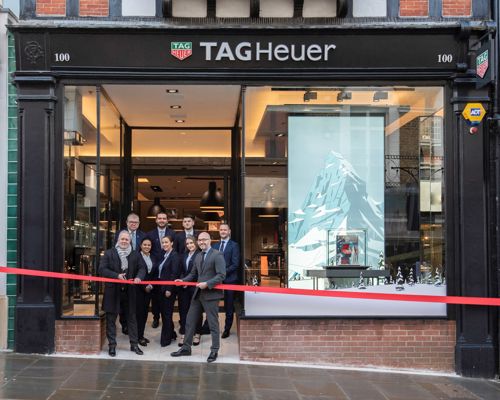 Commenting on the new boutique, Rob Diver, Managing Director of TAG Heuer UK and Ireland, said: 
"We are pleased to open a TAG Heuer Boutique in Guildford, just in time for the Christmas Season. The new Boutique will transport customers into the world of TAG Heuer and showcase all collections including our new Carrera collection, which is fronted by our latest brand ambassador, Hollywood actor Ryan Gosling. The Boutique is in partnership with our long standing partner Watches of Switzerland Group, who we have already opened three TAG Heuer Boutiques this year, along with a further two in the pipeline with Brighton and Southampton before the year end."
Craig Bolton, executive director of the Watches of Switzerland Group said:
"The Watches of Switzerland Group has solidified its role as the market leader in luxury retail as well as experts on the mono-brand model. We are delighted to invite our clients to the stunning new boutique in Guildford and further nurture the partnership between TAG Heuer and The Watches of Switzerland Group."